Science Fair Certificate Adobe Illustrator Vector Graphics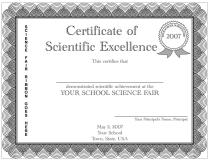 So I created a vector graphics version of a science fair certificate and I thought I'd put it up online. I worked up the border design by myself after seeing some certificates online. What a pain. Don't look too close at it otherwise you will see the imperfections. I found the seal on Wikipedia in the public domain. It was gold but I turned went with white because we didn't want to print color.
These files are my original work and is free for any use. If you can, please credit Gray Watson with the URL (http://256stuff.com/gray/) and no email address.
Free Spam Protection Eggnog Recipe Android ORM Simple Java Magic JMX using HTTP OAuth 2.0 Simple Example Great Eggnog Recipe Christopher Randolph